Pope Architects provides full service Architectural Design, Interior Design, Master Planning and Sustainable Design services. We customize our services to meet the unique scope and circumstances of each project.
So, how do we do our work?
Well, no two projects are the same, but the foundation of the process is unchanging.  We build experienced teams and then work together to create the best possible solutions for our clients.
Listen › Understand › Define › Create › Experience
We begin by actively listening, understanding challenges and together defining a solution. Collaborating with the client and project partners, we create a building design that responds to the owner's needs, mission and values. We incorporate best practices and research outcomes to develop innovative design.
Our industry is changing fast, and we utilize a variety of exciting tools during the design process, including 3D modeling software, Building Information Modeling (Revit), CAD, and even good old pen and paper.
Featured Project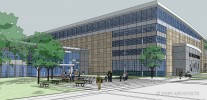 Bielenberg Sports Center Expansion
A new 90,000 sq. ft. field house will replace the campus' outdated domed field house. Read more about this exciting project that is already completed with design and development stages.
"Pope was extremely responsive to our needs and met with us numerous times to refine the facility."